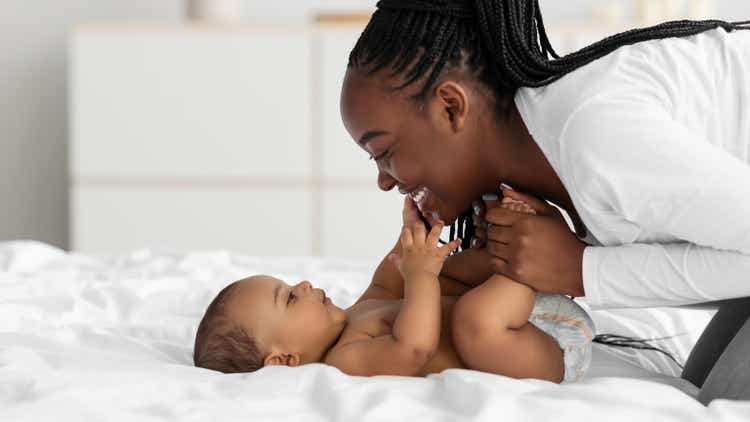 Consumer staples companies have held up better than more aggressive sectors of the market during this downturn, as they typically do. After all, these are typically companies with slower growth, predictable revenues and profits, and largely inelastic consumer demand. What you don't normally get in this group is significant growth, but in the case of the beleaguered honest company (NASDAQ: HNST), I think the elements may be in place for a rally in the stock price.
Let's start with a daily chart.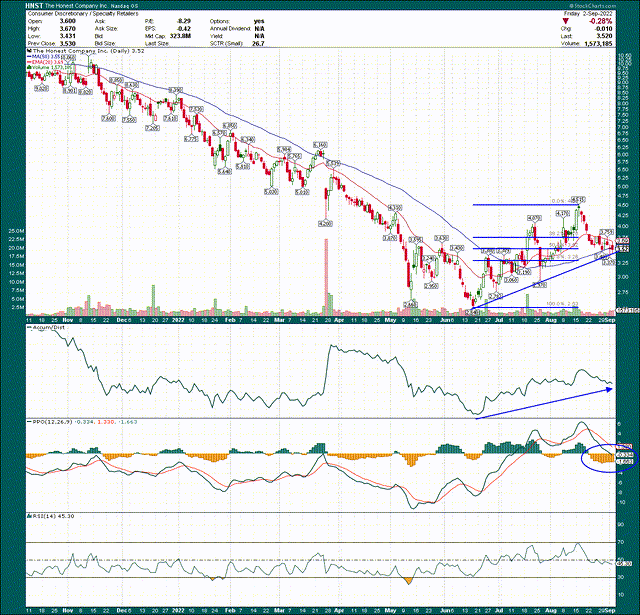 Since Honest went public about a year and a half ago, it has been sold by investors. The stock went from $18 in June 2012 to $2.54 in June, and basically in a straight line. However, since that low, the stock has been in rally mode, and I'm not sure it's done yet.
I've drawn what could be trendline support, which intersects almost exactly where the stock closed on Friday. Additionally, the upward sloping 50-day simple moving average is almost exactly where the stock closed on Friday. I always like to trade stocks that have multiple means of support converging on the same area because the odds of that support increases sharply.
In the case of Honest, we can see that the 50% retracement of the June rally is also within pennies of the current stock price. So while this does not guarantee that the $3.50 zone will hold, there are plenty of reasons for optimism.
Additionally, the accumulation/distribution line moves higher during this consolidation, which means investors are buying the dips rather than selling the tears.
The PPO, which is my favorite momentum indicator, also tests the middle line as the histogram gradually increases. This is exactly the kind of behavior you want after a big rally, and with the PPO testing the midline while simultaneously seeing the stock at what should be strong support, the odds are firmly in favor of the bulls.
Let's also briefly look at the weekly chart for a longer term perspective.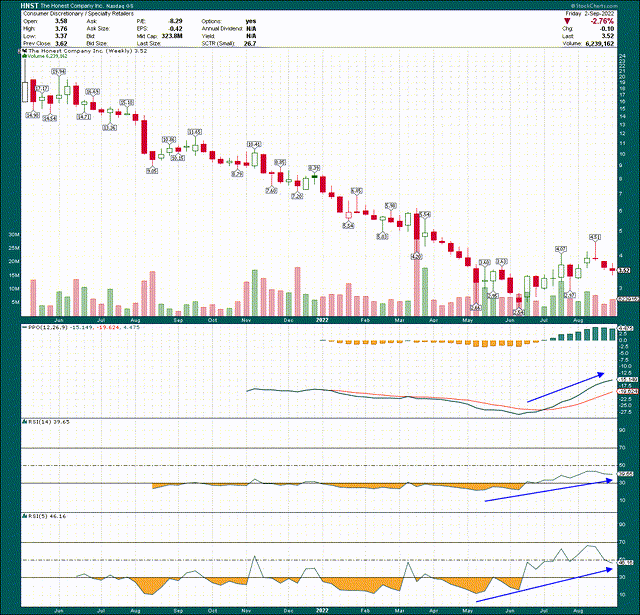 I kept this one simple because I wanted to point out that the RSIs (5 and 14 weeks in this chart) are showing significantly improved momentum. Additionally, the weekly PPO produced a buy signal in June and has not looked back. The weekly PPO histogram declined slightly during the consolidation, but the PPO itself is still in massively oversold territory. Point being, I think the weekly chart confirms what the daily chart is telling us.
Let's take a look at the fundamentals and see if we can find any evidence to support the bullish case.
Growth opportunities abound, but at what cost?
HNST is a very small company in the retail world, with annual revenue of approximately $320 million and a nearly identical market capitalization. This means that we can reasonably expect some growth beyond established pillars of the group such as the consumer businesses of P&G (PG) or J&J (JNJ). So how does HNST compare?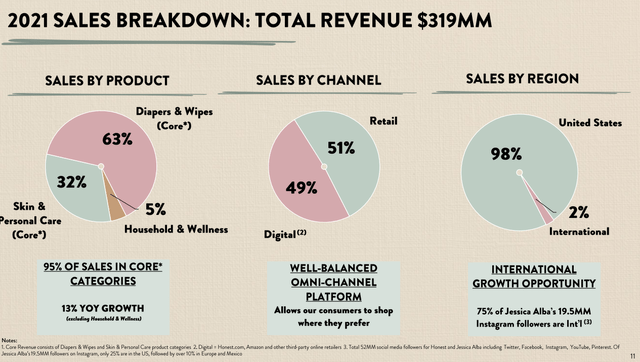 Nearly two-thirds of the company's revenue comes from baby products, about one-third from skin and personal care products, and about 5% from household and wellness products. The latter category is what HNST calls "emerging" revenue, but this category has also been a bit of a miss in terms of consumer acceptance and revenue growth.
Either way, HNST has grown its digital and retail presences through key physical retail partnerships with big names like Target (TGT) and Ulta (ULTA), and digitally with Amazon (AMZN) and its own website. I think that 50/50 mix of digital and physical is a strong trait of the brand and something the leadership team has executed well, especially with their physical retail partnerships.
Virtually all of its revenue comes from the United States, so it's possible that HNST could one day expand internationally. I don't see her ready for this given that she is facing growth challenges in her home country, but the company notes that Jessica Alba, the company's founder and the company's public face, is very popular across the board. international. Will this help? Maybe, but for now I'm assuming HNST is an American story until proven otherwise.
The company has also grown by leaps and bounds in its core product revenues in many cases, which I think is cause for long-term optimism.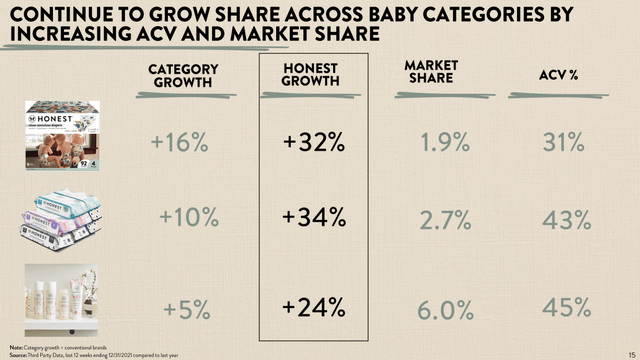 We can see that diapers, wipes, and skin care products are all growing at far higher rates than their peers, and the market share is increasing accordingly. I consider the baby products category in particular to be ripe for products made by Honest, in that if someone spends a little more on a more natural product, it will probably be for their children. That's the whole idea behind Honest, and I think it's a good idea. I'm not the only one, apparently, as the company's flagships continue to grow quite well.
Now let's see what it all boils down to, and that's revenue growth expectations. Revenue is everything for the investment case for Honest, as it continues to operate unprofitably, so we cannot use traditional revenue metrics.

Revisions have been rough for about a year, as we saw sharp cuts in the top line pretty much right from the start. However, we have seen about six months of stable estimates, and while I would obviously prefer them to increase, it appears that the reduction in earnings estimates has ceased. This is a big step towards an ultimate bottom in the stock.
With much more reasonable revenue targets and very modest growth expectations now priced in, I see Honest a good chance of some positive surprises in the years to come if it can continue to operate on commodities.
A huge caveat to the case of the bull
Revenue is important to Honest, but the company has so far done poorly in managing its margins. I understand; there are inflationary pressures everywhere. However, the strongest companies in every industry are fighting these pressures through pricing and sourcing actions. On the evidence below, it seems that Honest has no answer.
This chart shows gross margins and general and administrative expenses on a twelve-month basis over the past two years, and it's not pretty.

Gross margins have fallen sharply, especially in the last quarter. Although general and administrative costs have come down lately, it just hasn't been enough. A simple way I like to measure a retailer's efficiency is to subtract SG&A costs from gross margins, but on this metric, Honest has never produced a positive value. I also understand that Honest is not a pure retailer, but they are close enough to make this comparison.
The thing is, I'm not sure Wall Street cares about the company's revenue growth; I believe he is (rightly) more concerned about his ability to effectively monetize this revenue growth.
The upside is that the company's poor margin performance means that expectations are very low, so if Honest can find a way, the upside potential could be huge.
Let's enjoy this thing
As mentioned, the business has no profits, so we'll use the price-to-sales ratio instead.

The company went public at a valuation of about 5x forwards, but as the stock price and earnings forecast have fallen, we are at 1x forwards today. It's cheap on a relative and absolute basis, and reflects the company's low margins, in my opinion. To be clear, it would take a massive turnaround in margins to get back to 5X sales, but I think we can reasonably expect something significantly above 1X.
A final consideration is that Honest has core products that work and have clearly resonated with consumers. It has a very low P/S ratio, but it also has a healthy balance sheet with negative net debt. This combination of factors, in my opinion, also makes Honest an attractive acquisition target for other companies that make things like diapers and wipes. A buyer would be able to make Honest Company's unsustainable SG&A structure redundant by integrating it with their existing SG&A structure, instantly improving the margin profile of products sold by Honest. While that's not reason enough to buy shares of Honest Company, I think it's a real possibility that Honest will be acquired.
To me, the chart looks favorable for higher prices, it looks like analysts have reached a peak of pessimism in terms of the earnings cut, and the valuation is very cheap. It's possible that Honest will drop, of course, but I think the risk is heavily tilted to the upside on this one.